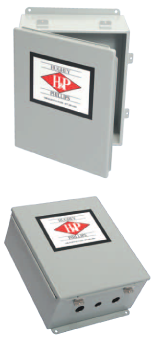 Complement to: FAA AC 150/5345-43F,
ICAO Annex 14, CAR 621.19
Use:
9LC series lighting controls combine the finest in digital circuitry with rugged electromechanical hardware to yield the industry's most comprehensive obstruction lighting controls. Standard models are available for all common FAA and ICAO applications. The 9LCs modular design allows for custom controls for almost any combination of flashing red beacons and sidelights. All models include a NEMA 4 outdoor housing and a calibrated photocell for automatic day/night switching. A photocell override switch is standard on all systems, facilitation troubleshooting or maintenance. All controls provide comprehensive status indicators and alarm contacts for easy connection to remote monitoring systems.
Features:
Controls for multiple beacons flash all beacons simultaneously per FAA and ICAO specifications
Lightning protection provided by:
Circuit breaker protection to all tower lighting circuits.
MOV surge suppressors on all inputs, outputs, and photocell lines
Torroidal current sensors isolate tower lines from monitoring circuitry
Load balance resistor capability is available
Modular design allows customization for nearly any application
Dozens of models already developed for control of up to 14 beacons
Standard with NEMA 4 enclosures (NEMA 4X optional upgrade)
Alarm Contacts / Control Status:
Individual alarm contacts and control status is provided for:
Control power failure
Day/night mode status
Each flashing red beacon
Each level of steady burning obstruction lights
Flasher by-pass alarm/status for each beacon
Number of lamps being monitored can easily changed by setting dip-switches
Bi-color red/green LED status indicators provide instant indication of alarm and control status
Normally open and normally closed alarm contacts are both available
Primary and auxiliary alarm contacts provided